With more than 200.000 restaurants in its metropolitan area, Istanbul is one of the best place on earth to enjoy street food. We compiled 5 delicious street food essentials you have to try while visiting Istanbul.
Lahmacun
Also called the "Turkish pizza", lahmacun is a round thin piece of dough topped with minced spices, herbs, onions, tomato and meat. Often served wrapped around vegetables, lahmacun (which means "meat with dough" in Arabic) is a really simple dish that had been forgotten for decades but which is increasingly coming back in Turkish trending street food.
---
Simit
Simit is probably the most famous bakery in Turkey. A circular bagel-looking bread encrusted with sesame seeds, nothing more, nothing less, as simple as that. Istanbul is known to be the city where molasses is added on simits making it even more delicious. Istanbul is also known to be the hometown of this popular bread: archival sources show that simit has been produced in the Turkish capital since, at least, 1525.
---
Balik-ekmek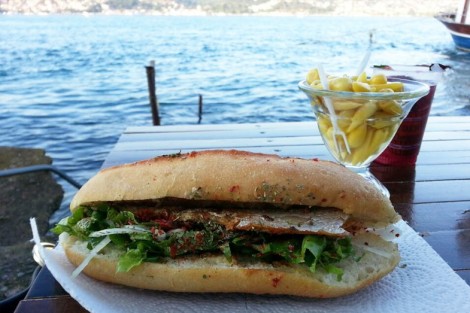 Fish lover? You definitely need to try this wonderful fish sandwich while walking around Istanbul shores. Deep fried fish (usually mackerel), onions, tomato, lettuce and bread, these are the really simple ingredients of balik-ekmek. Served from floating shops, cheap and tasty, this sandwich is without a doubt one way to enjoy your Turkish experience.
---
Kokoreç
Kokoreç is a notorious yet controversial Turkish street dish. Made of spiced offal wrapped in lamb intestines, the whole is often served in half a baguette or on a plate. Loved by Turkish people it is cooked and sold in small kiosks year-round and served 24/7.
---
Döner
Did you really think I would forget about Döner? Often called "döner kebab" or simply "kebab" we all know how this savoury sandwich or plate fulfils everyone's unsatisfied hunger. This standard bearer of Turkish culture all around the world consists in bread (pita, dürüm…) meat (usually a mix of lamb and beef) shavings, vegetables (lettuce, tomato, cabbage…) and sauce but, well, I know you know…
You can book your taxi transfer from/to Istanbul airport here.